The quilt is very simple:
Crop applique to about 8 by 9 1/2 inches.
Cut 1 1/4 inch strips to frame applique. (finishes at 3/4)
Cut borders 3 inches wide and corners at 3 by 3.
Baste waste canvas to cross stitch areas.
Stitch on date and your initials. Pull out canvas threads.
Layer backing, batting and top.
Baste, quilt, and bind.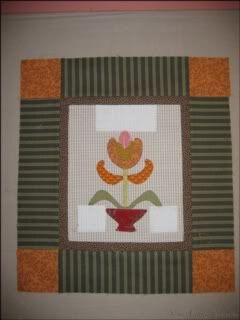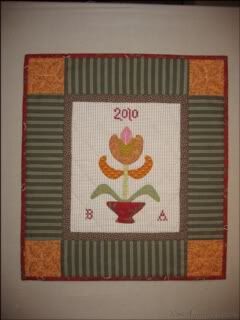 My quilt is quilted in the ditch on both sides of the inner border and around the corner squares. There is a cross hatch on the applique and the flower is outlined. I bound it next and then quilted the corner squares. I may still do some quilting on the green border. Finished quilt measures 14 by 15 1/4.
All done!
Bobbie