I would like to show you a quilt that I worked on from January through May of 2010. I was away from home for several months helping take care of my dad. I didn't have anything to work on, so I picked up a package of 3/4 inch paper hexagons from the local quilt store along with a little bag of pink scraps. This is the final result.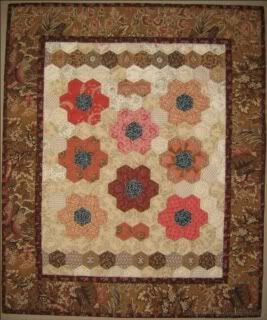 The quilt has eight little English paper pieced pink flowers
with blue centers.


I started out by making the flowers and then setting them together with cream. Originally I had thought to use only one fabric for the background, but found it a little boring and decided to mix it up. When working on this type of quilt it is hard to visualize the ends. Putting the brown borders at the top and bottom helped me define the shape of the quilt . The fussy cuts in the brown borders were fun.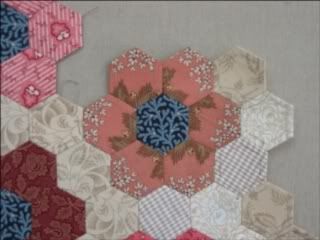 I only made one fancy flower. Love how it turned out.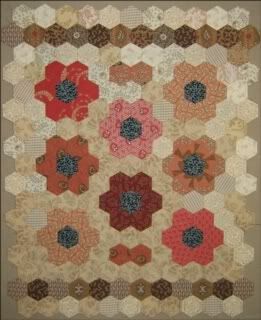 As the quilt progressed the background got scrappier.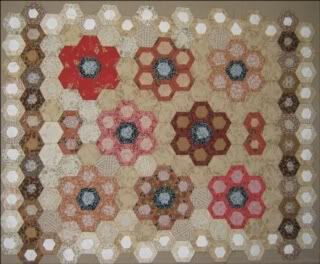 This is how the quilt looks from the back before removing
all of the papers.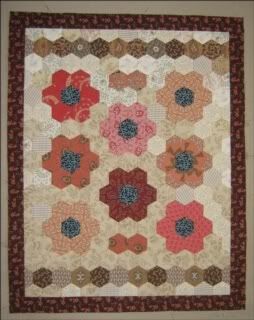 A little border is added.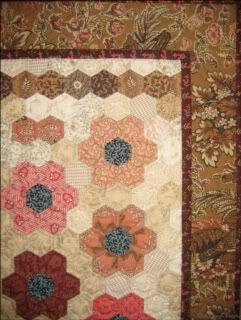 Closeup of the quilting
All done and resting on my grandmother's vanity.
Bobbie