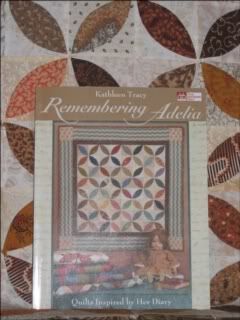 I have been working for the last few weeks on a quilt from Kathleen Tracy's book Remembering Adelia. I like handwork because I can work on it easily even when I'm not at home. Originally I had planned on making it a brown quilt, but after cutting out a dozen or so orange peels I decided that I had better throw in some rusts and yellows. There were so many fabrics that I wanted to include, that it was hard to decide what to leave out.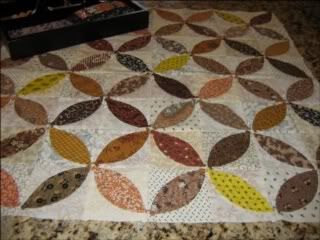 I sewed the background squares all together first and then basted the orange peels to it. After that it was easy to simply stitch them on. I am almost finished with the hand stitching. I have only seven left to do.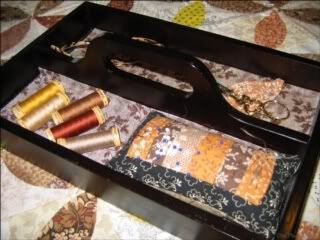 I thought that you might like to see my sewing caddy. I use it all the time. It is a black laquered wooden tray with a handle running down the center that divides the tray in to two sections. I bought it a few years ago from World Market. I folded up some fabric for temporary liners and it has been that way ever since. It holds everything I need for hand piecing, applique or quilting.
Bobbie