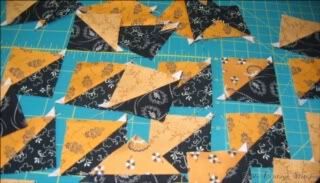 I started out making Lori's Midnight Stars and simply followed the directions. Here are my half square triangles. I decided to make them all the same.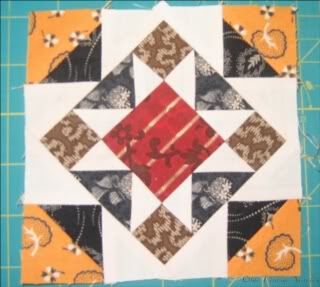 I liked Lori's idea of using muslin for the light color, as that was very common in the 1800's. I only had white muslin so I ran to the kitchen and tea dyed a piece. It wasn't quite enough so I ran back to the kitchen...
After the stars were sewn I couldn't find a fabric for the setting. Finally settled on gray. The zigzag setting was fairly common in the 1800's too. I needed ten blocks to make the half stars. So I had to go back and make another block. The quilt is framed with in black with little red hearts. I finished piecing the top yesterday evening and got it basted and then started hand quilting it. It will have a cross hatch like Lori's first larger quilt. Let's see how long that takes!
Bobbie