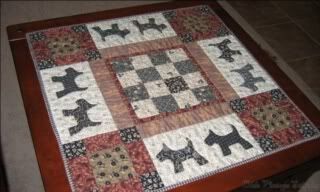 This is another quilt that I made for Kathleen Tracy's yahoo group SmallQuiltTalk. It was a couple years back. Kathleen designed the cute little Scottie and I had a great time making the quilt.
The little dogs are running around the edges of the quilt.
The light squares in the center of the quilt are from a small piece of quilt candy that I got from Sew Many Quilts in Tracy, CA.
It has darling little birds on it.
Great fun!
Bobbie